SKU:
W-CBX-3-B
Regular price
$1,276.00 USD
Regular price
Sale price
$1,276.00 USD
Unit price
per
Sale
Sold out
Please read all information before ordering. Have a question ? Use our chat service below.
View full details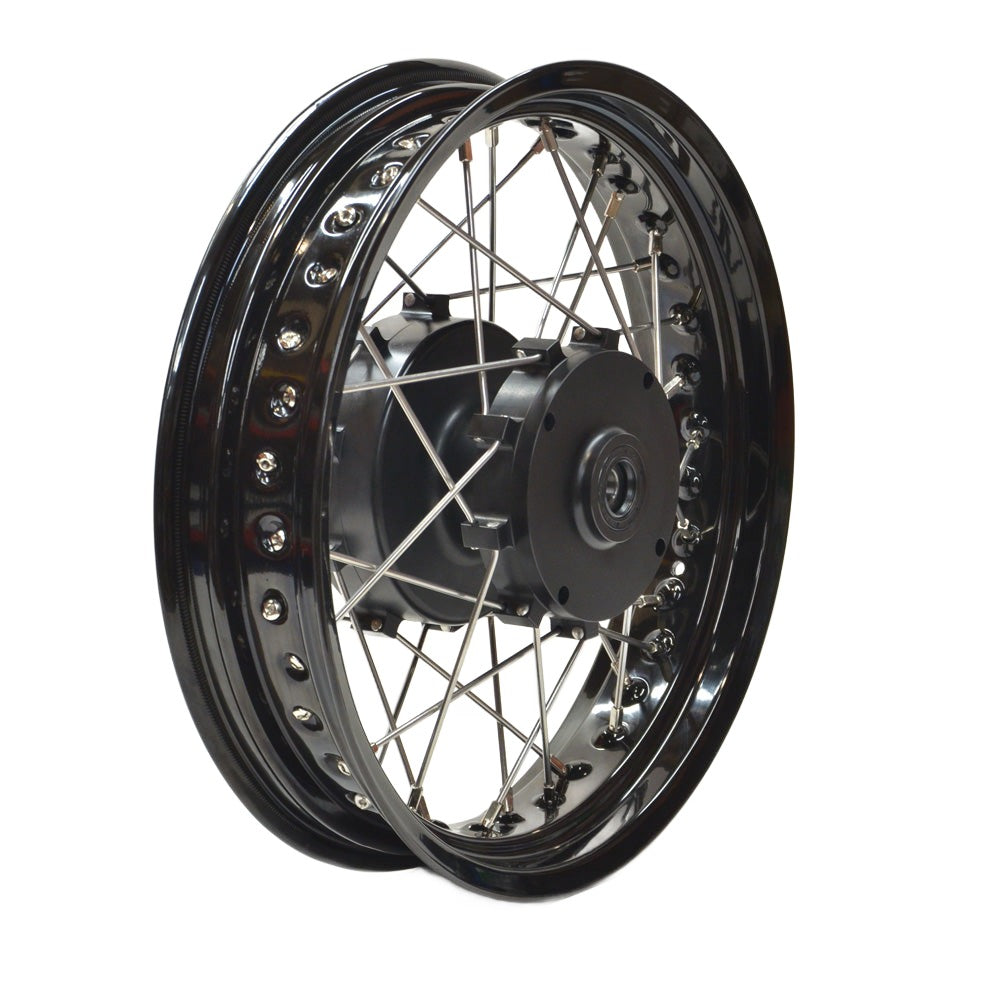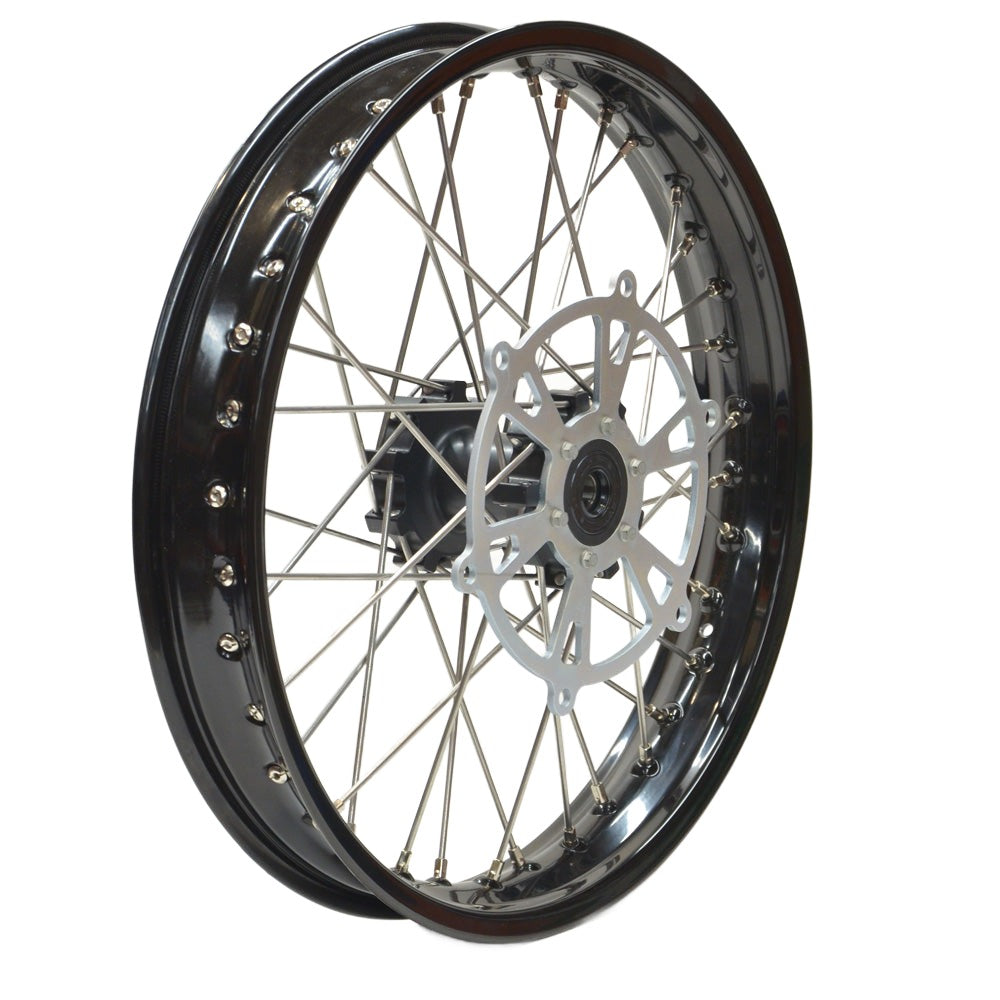 OVERVIEW
TECHNICAL SPECS
IMPORTANT INFO
FITTING & SUPPORT
19" front and 17" rear spoked TUBED wheel kit to fit HONDA CB500X 2022-on models.
With the introduction of our new Gold-Anodised EXCEL TUBELESS spoked wheels, we are conscious that not everyone needs or wants to pay for such a high specification premium spoked wheel-set, and may also prefer a more visually understated appearance.
We are therefore delighted to offer our same high-performance in-house designed 36 hole billet aluminium hubs, laced with the same heavy-duty Bulldog stainless steel spokes, but in this instance to SMPro Black powder-coated rims which are designed to run traditional inner-tubes and tyres* - making for a much more affordable package.
*Note you can still fit tubeless tyres if that is your preferred choice of course, but you will need to run a tube inside them.
Hand-built here in the UK, our 'Adventure' wheelset offers a strong and reliable spoked wheel upgrade to the 2019-21 models, either with, or without, OEM, or our Level 1, or Level 2 upgraded suspension.
Each custom-built wheel kit consists of:
Front wheel: 19" diameter x 2.50 wide, 36 spoke, SMPro aluminium rim, laced with heavy-duty stainless-steel spokes and nickel-plated brass nipples onto our own CNC machined billet aluminium front hub.
Rear wheel: 17" diameter x 3.50 wide, 36 spoke, SMPro aluminium rim, laced with heavy-duty stainless-steel spokes and nickel-plated brass nipples onto our own CNC machined billet aluminium rear hub - specifically designed to accept the OEM cush-drive assembly, and brake disc/ABS sensor components.
Both front and rear hubs are manufactured from 6082T6 billet aluminium alloy, and black xylan coated, for a durable finish.
SMPro rims are a high-quality extruded aluminium rim and come powder-coated in classic Gloss Black for durability and ease of touching in any scratches if they ever occur.
Heavy-duty "Bulldog" stainless steel spokes have 60% greater tensile strength than typicial OEM specification mild-steel spokes, and benefit from inherent corrosion resistance.
Our spoked wheels are supplied ready to fit with new bearings and seals and accept all the OEM hardware to mount the rear sprocket cush-drive assembly, brake disc rotors and ABS sensor components. All you need is your own choice of tyres & tubes.
Rim tapes are included with each wheel.
Our rim sizes (19" x 2.50 front and 17" x 3.50 rear) were chosen specifically to enhance the off-road performance and all-round ability of the CB500X, and allow a wide range of all-terrain 50/50 style tread pattern tyres to be fitted from any number of manufacturers.
For the CB500X used in mixed terrain on and off-road riding scenarios, we would suggest you fit a 110/80 x 19" front size and 140/80 x 17" rear size tyre - and our recommended brand/model would be the Anlas Capra-X or Continental TKC80 in these sizes which over the years and during many thousands of miles of mixed terrain riding, we've found work particularly well both on and off-road on the CB500X.
Benefits of our wheel kit
• Rear hub is designed to work with the OEM cush drive and rubbers.
• Our rear hub/rim is 36 spoke pattern, much stronger and resistant to flex.
• Hubs supplied with bearings & seals.
• Both front & rear hubs designed to work with OEM discs, rear ABS ring and OEM screws.
• High-tensile "Bulldog" spokes are 33% larger cross section, and consequently 60% stronger tensile strength than the OEM plated mild steel spokes, plus they are corrosion-proof.
• Nipples are nickel-plated brass, again, corrosion-proof, maintenance free.
Both rims are high-grade aluminium alloy.
The rim sizes are 19"x 2.50 front and 17"x 3.50 rear, 36 spoke hole pattern
IT IS NOT POSSIBLE TO FIT THE OEM REAR TYRE 160/60-17 AS OUR REAR RIM IS SLIGHTLY NARROWER THAN OEM CAST WHEEL RIM. OUR RECOMMENDATION IS A 140/80-17 REAR TYRE, OR ALTERNATIVELY THE POPULAR 150/70-17 PROFILE SIZE - TYPICALLY AVAILABLE FROM ALL MAJOR TYRE MANUFACTURERS.
DO NOT USE ACID, OR ALKALI-BASED WHEEL CLEANERS TO REMOVE DIRT AND BRAKE DUST, AS THESE CAN CORRODE AND REMOVE THE POWDER-COATING AND TARNISH THE STAINLESS-STEEL AND NICKEL-PLATED BRASS NIPPLES. USE A PH-NEUTRAL CLEANER, OR SOAP AND WATER.
LOWERING YOUR CRF...
CRF300 L/R -20mm 'SHORT' HEAVY DUTY SIDE-STAND
Regular price
Sale price
$90.00 USD
Unit price
per
Sale
Sold out
Due to lowering the bike, a shorter side stand is often needed. If you have not already fitted an aftermarket or altered stand to suit your lowered bike we strongle reccomend that you do to avoid the bike falling on uneven surfaces.
View full details